Small Business Computer Support in Singapore
Are you
Allow Us to Generate Profits for Your Company!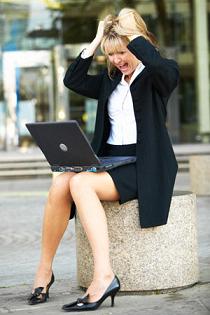 Do not allow your staffs to step into the shoes of IT support when they should be busy generating income for you.
We are able to fill in the position of IT support for your company at a much significant lower rate than a full time PC employee.
No more frustration over unsolved IT problems or unhappy staffs who has to work dual roles.
What Value S-Mall can provide to your company
When we act as your business computer support consultants, we will provide the following solutions for you.
Computer Protection -Your PC will be well protected against the malicious virus, espeically ransomware, that are lurking online. We check your PC regularly and update your Anti virus (if any) to protect your office PC from malicious virus. And offer advise to
Data Backup Advice - No more fear about missing data due to Pc breakdown or hard disk crashes. We advise data backup solutions for you to prevent your from losing your vital files.
Network Management - Are you having "holes" in your network which could allow hackers to gain entry to your sensitive data? We will patch them up and scan for the security of your network regularly and prevent hackers from stealing your company precious data.
Or network seems to slow down without any specific reason?
Network Printers that cant seems to print or scan to computers on the network despite you following instructions from the manufacturer?
We can help to troubleshoot connectivity issue!
Access Your Company's Files from Home (Remote Access) - Are you working from home, only to discovered that you leave that vital presentation file at office? Call us for advice on setting up a solution for you to conveniently access your important files from your home using a network file in your office.
Data Privacy - Have only your company data in your physical company server! Or planning to host them somewhere as an offsite backup? Call us for advice on how to ensure that even if your offsite is compromised, data is still unreadable to them.
Speedy Onsite IT support - Any downtime to your business computers, such as data /application servers or accounts' computer will be of great inconvenience to your turnover. We provide fast business IT support for you whenever you need it to solve your pc problems for your business! Even on weekends!
Web Mail / Domain Registration- Looking to create new company domain and to setup new email accounts for your staffs yet not knowing what to do? Call us to register and setup for you.
EMail / Domain Transfer Service- Having an unstable website or email service from your existing service provider where emails cant be send out?
Or you have a prompt asking you to key in your login credential (passowrd and username) every few minutes? And having the frustration that even with the correct credential, it rejects the login?
S-Mall is able to assist you to migrate your email services to another email service provider, such as Office 365 or Gsuite.
We can help to resolve all the above problem!
Contact us using the form below or call us to protect your company's precious data and reduce company downtime!
Call us at 9171 6803 for your company's customized maintenance package